I featured the DIY below on
Snippets of Inspirations
My Aunt had some clear plates that she was going to sell on her garage sale so I took one because I had an idea that I have been wanting to try. For my wedding I had collected various sized candlesticks and spray painted them white, so I had a lot of them left over.
Step 1: Spread Modge Podge over bottom of clear glass plate using a paint brush.
Step 2: Apply first coat to candle stick with paint color of your choice.
Step 3: Place square piece of fabric over layer of modge podge while it is still wet. Carefully smooth out the fabric to make sure there are no wrinkles.
Step 4: Apply coat of Modge Podge over fabric using a paint brush.
Step 5: Once first coat is dry. Apply 2nd coat of paint to candle stick.
Step 6: Apply 2nd coat of Modge Podge and once that is dry cut excess fabric directly along edge of plate.
Step 7: Hot glue top of candle stick and apply center of plate firmly to candlestick.
And then your done! Easy right! Great for displaying jewelry, figurines or even cupcakes :)
Every since I opened up my Etsy shop I have been crafting like crazy! I have been trying to bulk up my shop with many different listings. Unfortunately there has only been one sale but I have been advertising through Etsy and also sending emails to co-workers, friends and family plus posting a lot on facebook. I'm going to make a facebook page probably and I have business cards on their way :)
Here are some of my recent listings: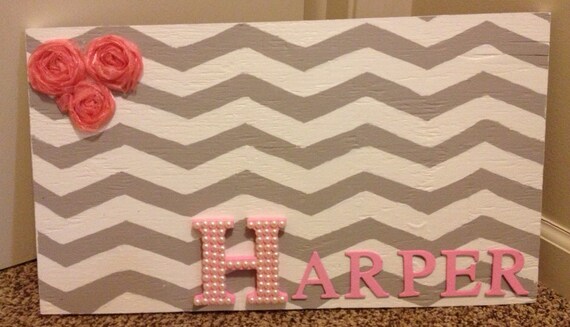 https://www.etsy.com/listing/151149965/grey-white-chevron-with-pink-baby-name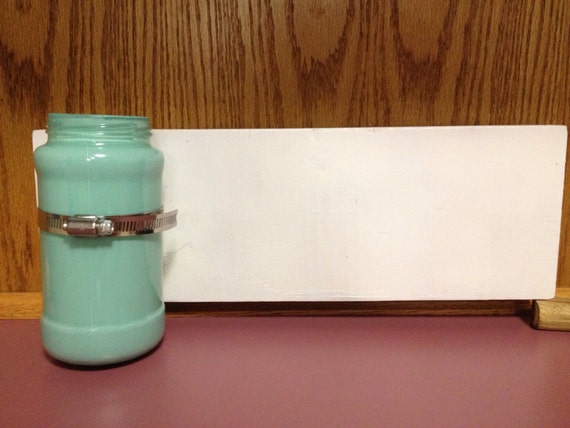 https://www.etsy.com/listing/151147930/unique-wall-jar-vase-mounted-on-white?ref=v1_other_2
Easter is one of my favorite holidays, unfortunately I have to work the night before and that night but at least I can still decorate. I of course have a small sofa table with a decorative curtain rod over it and I decorate it each season. Its a nice place in the house to change up every once in a while and for me to let out my creative side. For Easter I got a lot of inspiration off of pinterest from these pins.
And with those pictures to go off of I ended up with this
I used a thin piece of chevron fabric that I had left over from another project as a table runner. I found an adorable frame on sale at Hobby Lobby and put a piece of scrapbook paper in it. Bought some cheap Easter eggs from Walmart for like $1 and put them in a tall vase. Then I separated the jelly beans by color and layered them in the two glass vases and placed a couple candles that I had from our wedding decorations on top of them. In the tall white vase I spray painted some branches that I had and also spray painted some silk flowers with metallic silver paint and hot glued them to the branches.
__________________________________________________________
Anyone who knows me would say that I love crafs, scrapbooking and little DIY projects. I find myself browsing goodwill or thrift stores for decor that can be renovated into something fabulous. And with the new house there are plenty of projects to be made! Here are a couple of my favorites.