Hey Everyone!
Just wanted to share some fun news..I am currently working on getting an ad made for my
etsy shop
and when I do I will be helping sponsor
Hope Engaged
which is an awesome and inspiring blog by Katie who documents her travels and faith in God. I'm really excited to get the ball rolling on advertisement for my shop! I am going to have a
Morningside
friend hopefully design an ad for me :)
Today after work I will be traveling to West Omaha where my Aunt Julie is having a garage sale. I am going to pack up all of my etsy shop items and business cards and set up a little table at her garage sale. My hope is that if people see my product in person they will really fall in love with it. Even though I will be pretty tired I always love garage sale seasons and might try to do my own browsing in her neighborhood. She lives in a very nice part of town so they always have decent stuff on sale ;) My goal is to find some thrift items to re-do and feature on my blog!
Another new tid-bit is about going back to school for my masters. I have been throwing around this idea for a few months now and have decided that right now with all the new endeavors in my life like my shop and working at the pregnancy center that I will hold off on grad school. Luckily grad school will always be there and they have not changed the requirements for Nurse Practitioners yet because they were going to make all future NP's get their doctorate (which is very silly)
I eventually want to become a nursing professor and teach at the Bachelors level. I really enjoy teaching (even though I haven't done much of it..haha) and would like to have my very own class of aspiring nurses. And then many years down the road I would really like to become a nurse practitioner in mental health so I can diagnose, treat and perscribe medications to people suffering from anxiety to bipolar disease. And of course I would like to get started on on at least my master's degree before a little Baby Williams arrives :)
Found this idea from
The Sweet Season blog
and have seen a lot of bloggers doing it so I thought I would give it a try.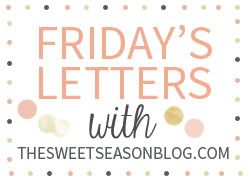 Dear Summer
Can you hurry up and get here already. I'm in the mood for hot&humid runs, mixed drinks by the pool, bronze skin and Okoboji trips. This rainy weather, although helpful when I need to sleep during the day, is way too depressing!
Dear Husband
Can I please see more of you! Sometimes I worry I will forget what your face even looks like. Seeing you for five minutes while you are waking up and I am heading off to bed after a long night at work is just not enough time together! I'm ready for a good 5 days in the black hills with my family so we can spend more time as a couple and not just roomates ;)
Dear Theresa
You work on the night shift with me and always make Folgers coffee right when I need a pick me up. And Folgers is just so much better than that Maxwell House coffee the hospital has. Thank you for making me a cup of joe to get me geared up for more charting!
Dear Patients
Please understand that it is nice to treat your nurses and care techs with respect and makes our lives that much easier. Also know that IV catheters and foley catheters come in sizes that WE choose and you can either get the big guage or the small one...the choice is yours ;)
and 80 year old unsteady dementia patient - you scare the Shit out of me when you get out of bed by yourself and peek your curly haired head out the door! Get back into bed and don't try that crap again!
Dear Etsy Shop
congrats on your first sale from a complete stranger and good luck in futures orders!!
Dear women of AAA
I thank God over and over for bringing you to our center so that we can educate you on your pregnancy and hopefully pull at your heartstrings so that you choose life! Please be strong and know that many women are praying for you. Know that you have a safe haven at the center and that God has BIG plans for you and your precious baby
Dear Blogworld
Thanks for always giving me something to do during my slow night shifts and for inspiring me to add new things to my blog.
Dear Tanzania
I miss you...Oh boy do I miss you! My sister posted a picture of her time there with a sweet african girl and I want to go back to the land of Mt. Kilimingaro and spend time with your heartfelt people! I miss all the beautiful nature and the warm feelings in my heart that your country gave me! I will be back soon!
Dear hot glue gun
I promise I won't underestimate how hot your glue can get so that I don't end up with another burn blister on my finger..OUCH! I have a love hate relationship with you but I must say you do come in very handy.
Dear Lord
Thank you for this week and for all of its blessings. Thank you for #SRT and the lovely ladies that post daily on the devotionals there. Thank you for keeping my family safe and healthy and please continue to be with all the people affected by the Oklahoma tornados. I love you Lord and I pray that my life is lived as an example of how you love us!